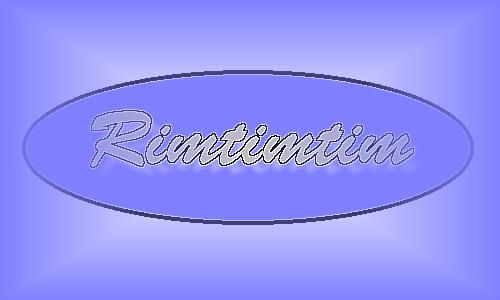 ---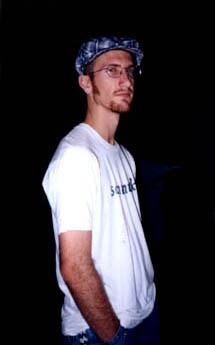 Hello! You have stumbled upon the humble abode of Rimtimtim (there are some who call me Tim). Please take the time to check out all of my pages and sign my guestbook while you are here. I am a 20 year old Junior at Florida State University. My main interests are: music (I am a music education major), which includes trumpet, piano, bass, guitar (check out my guitar page), and I've even picked up a little flute; and ska (check out my ska page, I like mainly trad stuff, but almost all ska is good).
---
That's me on stage at the Club Downunder when my band (The Double Deckers) played with the Skeletones. There are a lot more
pics of the guys in the band at the official homepage.
---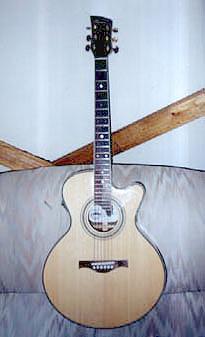 On your left you'll see a picture of my acoustic guitar; its a Charvel 625C, and it rocks. I would put alink to the Charvel page here, but I had a horrible time trying to find it online, so nevermind.
---




Below is a picture of me and my roommate Rudeboy0 just loungin' on our couch, sippin' some dew. You should definitely go and check out his pages. They are pretty cool, if you like ska and Bjork, which I do.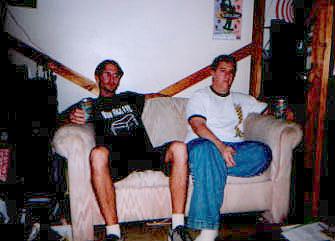 Visit the following pages that I have concocted, because they took me a while and I am a busy college student (lame cry out for pity).
An attractive site with a bio, pics, and links to Sarah Michelle Gellar
My page devoted to the all consuming ecstacy that is ska
A concise page of some of my favorite pics of Love
---

I don't know how, but it seems this page has been visited
times!

Tim Goodwin
twg1209@garnet.acns.fsu.edu
U-box 60252
Tallahasee, Fl
United States
You know you wanna SIGN MY GUESTBOOK
Or maybe just VIEW it